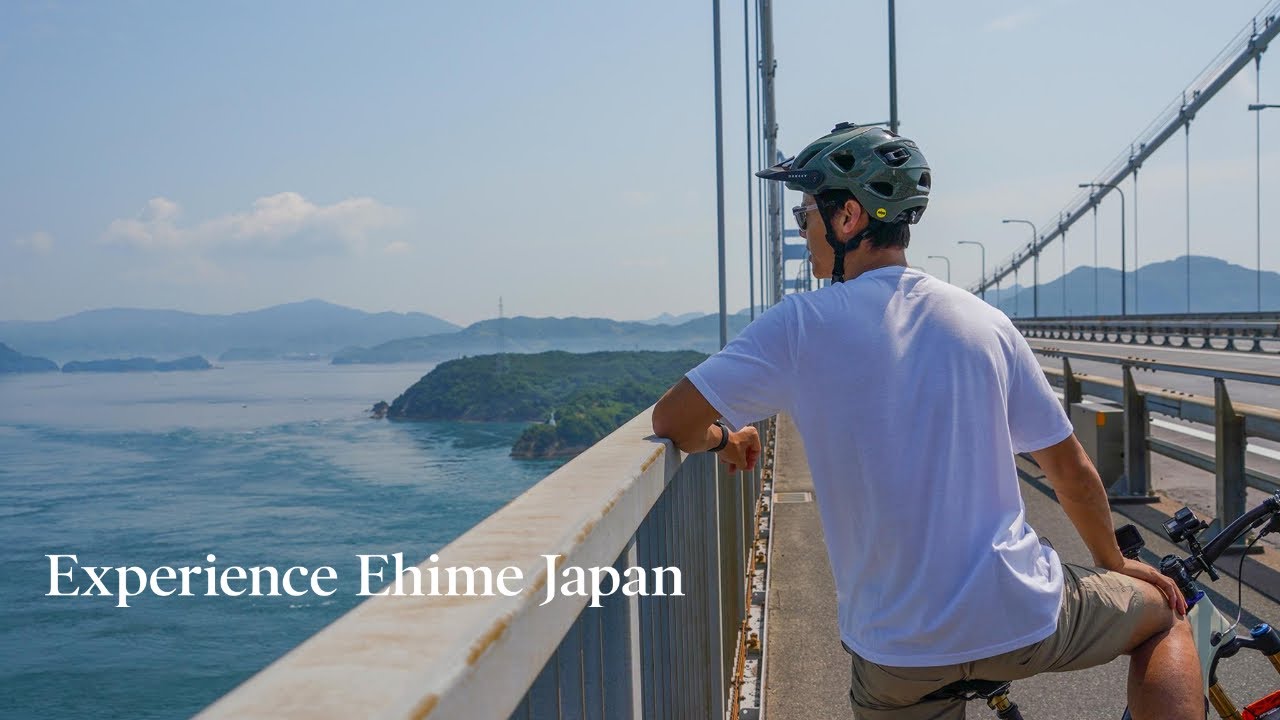 Activity in Ehime
Cycling, fishing or canyoning. You will find the best ways to enjoy the nature
The north side of Ehime Prefecture it is the Seto Inland Sea which is facing to a wide plain. To the south it is surrounded by the Shikoku highland where Mount Ishizuchi, the highest mountan in Western Japan, is located. Along with variety of terrains and geological features, beautiful mountains, sea and rivers, Ehime Prefecture has the best natural environment for various activities.
The Setouchi Shimanami Expressway which connects the islands in the Seto Inland Sea is a very popular route for cyclists. "Kutsuna Islands" and "Sada Cape", both are famous fishing spots for anglers. "Omogo Gorge", which extends from the upstream of the clear stream Niyodo River, and the "Nametoko Gorge", located upstream of the Meguro River, a tributary of the Shimanto River, are ideal for stream fishing and canyoning. In Ehime Prefecture you can enjoy the dynamic Japanese nature in all seasons.
#Cycling #Fishing #Canyoning
Enjoy the beauty of archipelago – cyclist's favourite route "Shimanami Expressway"
The "Setouchi Shimanami Kaido", which connects Imabari City in Ehime Prefecture and Onomichi City in Hiroshima Prefecture, is a 60-kilometer motorway comprises the Nishi Seto Expressway, Ikuchijima Road and Oshima Road. Honshu-Shikoku Bridge, connecting Shikoku and Honshu, is the only route for bicycle/pedestrian (cycling road) and scooters. As you can enjoy the panoramic view of green islands in the beautiful Seto Inland Sea while cycling on a magnificent bridge, it is renowned a "sacred place" visited by many cyclists from all over the world.
Depart from Imabari City, Ehime Prefecture and get on the "Setouchi Shimanami Expressway", the first bridge you will cross is the "Kurushima Kaikyo Bridge", which is about 4.1km long. It was opened in 1999 as the world's first tri-suspension bridge consisting of 3 long span bridges. From the bridge you will see a superb view of the Kurushima Strait, a popular spot of Setonaikai National Park. It is fascinating when lit up at night occasionally which shows a different image from the daytime.
The "Setouchi Shimanami Expressway" crosses the scenic Seto Inland Sea with 7 bridges over 6 islands and a ferry. There are plenty of bicycle rental supplies and resting areas. It will be the best experience that you can find nowhere else, for anyone from beginners to experts.
Kurushima Kaikyo Bridge
Address

Between Sunaba-cho, Imabari City, Ehime Prefecture and Oshima

Phone Number

078-291-1033(Imabari Regional Tourism Association)
The archipelago of Seto Inland Sea - a treasure fascinates anglers
Located between Aki Sea and Iyo Sea in Seto Inland Sea, the "Kutsuna Islands" contains of more than 30 different sizes of islands. The entire area is designated as the Setonaikai National Park.
The terrain shaped by the complex currents between the islands, created an excellent environment for a wide variety of fishes. Fishes like horse mackerel and sillago can be easily caught, even by beginners. There are many other rock fish such as red sea perch and sea ruffe, flounders and fat greenling, and experts' favorite largescale blackfish, black sea bream and red sea bream. Different types of fish can be found thoughout the year that keeps anglers visiting continuously.
In "Kutsuna Islands" there are nine inhabited islands and the largest one is "Nakajima". Various types of citrus fruits such as unshu mandarin, iyokan, and kara mandarin are grown there and given the name of "island scented with citrus flowers". The scattered piers of Oura Port, Konoura Port, and Nishinaka Port, along with beaches and rocky areas, are very popular fishing spots.
Another recommended fishing spot in Ehime Prefecture is "Sada Cape", Japan's longest narrow peninsula located in the westernmost part of Shikoku. It is famous as a fishing spot for big horse mackerel recently, then bigfin reef squid, largehead hairtail, yellowtail and red sea bream are also be found. It is best for family go fishing for fun or a fully-equipped fishing. Let's enjoy fishing while paying attention to fishing prohibited area, no entry zone and take your rubbish with you.
Enjoy fishing in the emerald green stream – "Omogo Gorge"
The Shikoku Mountains are a mountain range at altitude of 1,500m, where Mountain Ishizuchi, the highest mountain in western Japan, located in the middle. From there it is the source of the clear stream Niyodo River, and "Omogo Gorge", the largest gorge in Shikoku, is located on the upstream of the river.
Both Ishizuchi Quasi-National Park and Omogo / Shikoku Karst Natural Recreation Forest, are amazingly beautiful. The water quality from upstream of the Niyodo River is the only one ranks first in Japan. The water is purely transparent which shines in emerald green. From the promenade you can see the white limestone of the riverbed and swimming fishes. It makes an exquisite contrast with the autumn leaves, delighted many tourists in the fall.
Small waterfalls and stream pools are scattered in "Omogo Gorge", giving it a perfect environment for mountain stream fishes such as char, yamame trout, and red spotted trout. Anglers from all over the country come to aim for big fishes, trying different fishing methods such as bait fishing, fly fishing, tenkara fishing or lure fishing in particular seasons. "Omogo Gorge", with a variety of spectacular images, is one of the popular mountain stream fishing spots in Shikoku, (mountain fishing requires a permit issued by the Omogo River Fisheries Cooperative "Omogogawa Gyoukyou". Please also take your rubbish with you). Beginners are recommended to go with an experienced person, as some routes climbing up the mountain stream can be dangerous.
Omogo Gorge
Address

Ishizuchi Quasi-National Park, Wakayama, Kumakogen Town, Kamiukena District, Ehime

Phone Number

0892-21-1111
Canyoning in the gorge – a natural slider formed from a piece of single rock in about 40m long.
"Nametoko Gorge" is located upstream of Meguro River, a tributary of Shimanto River which is one of the three major clear streams in Japan. Its name comes from the smooth granite riverbed shaped by ages of erosion and it is one of the best gorges in Ehime Prefecture. In "Deainame" and "Senjojiki", you can see the amazing patterns formed from weathering and purely clear stream, are definitely worth a visit.
The perfect place for the adventure sport "Canyoning" is going down the valley, different from the usual climbing up, where is about 12km long and has plenty of sliding spots to slide from the waterfall. That is one of the best experience in "Nametoko Gorge". There are gently-sloped waterfalls that even children can enjoy, or waterfalls with thrilling S-shaped corners. You can take the challenges according to your skill and strength.
"Yukiwa Falls", a symbol of "Nametoko Gorge", has been designated as one of the "100 Best Waterfalls in Japan". It is one of the largest slider spots in Japan with a total length of about 40m where sliding is possible. Right next to it is "Ochiai Fuchi" which is a wonderful naturally formed pipe slider. From families to single challengers, the best "canyoning" experience is awaiting for you.
Nametoko Gorge
Address

Nogawa, Uwajima City • Meguro, Matsuno Town, Kitauwa District, Ehime

Phone Number

0895-42-1116(Matsuno Town Hall - Morinokuni Creation Division)
Experience Ehime
Food & Drink in Ehime
Savory taste from locally grown and the sea
Favored by a mild climate, Ehime Prefecture ranks the first in Japan of the varieties and produce of citrus fruits. It is also a famous location of sake brewing. There are 37 sake breweries making superb local sake. Surrounded by Seto Inland Sea, a lot of restaurants in Ehime Prefecture are serving "Taimeshi" and other fresh seafood. Local snacks like "Imbari-yakitori" and "Senzanki" are also exquisite. You will feel the hospitality of Ehime Prefecture from their food culture.
Culture in Ehime
A time-honoured history
The treasure of refined Japanese culture
Various cultural heritage has been passed down in Ehime Prefecture. "Matsuyama Castle" and "Ozu Castle" are valuable cultural heritage showing the traditional castle architecture. "Dogo Onsen", one of the oldest hot springs in Japan, has a high reputation worldwide. "Iwaya Temple" and "Ishite Temple" of Shikoku 88 Pilgrimages, both are unique temples worth to visit. The stunning, fantastic "Saijo Festival" and the vivid "Niihama Taiko Festival" will surely bring you unforgettable experiences.